Do you NEED water shoes for snorkeling?
Posted by Steven Han on
Watelves gives some advice on the advantages of water shoes for snorkeling. Our snorkel tours don't require shoes but you'll love the experience so much you may want to think about shoes for future snorkeling adventures.
ADVANTAGES OF WATER SHOES:
PROTECTING YOUR FEET
ROCKS, GLASS AND SHELLS
It sounds obvious, but protecting your feet is more important than you could be thinking. Tourists aren't always cautious about polluting the ocean. They could leave behind empty bottles, cans, or other sharp objects. But that's not all. Sharp edgy rocks or empty shells could leave a big wound if you're not paying attention to where you're standing.
STINGS FROM FISH OR JELLYFISH
Another thing to notice is stings. Some fish or jellyfish are capable to sting you. Since we don't always pay attention to what's happening behind us, every piece of protection could make a huge difference.
STINGS OR SCRATCHES FROM PLANTS
 There sure are a couple of them, like stinging seaweed for example. Sometimes we just don't know what's living on the ocean floor. Even though we usually try to not stand on any plants or whatever marine life is down there, you just can't be totally sure. Besides stinging, some plants have sharp edges which can easily damage our skin.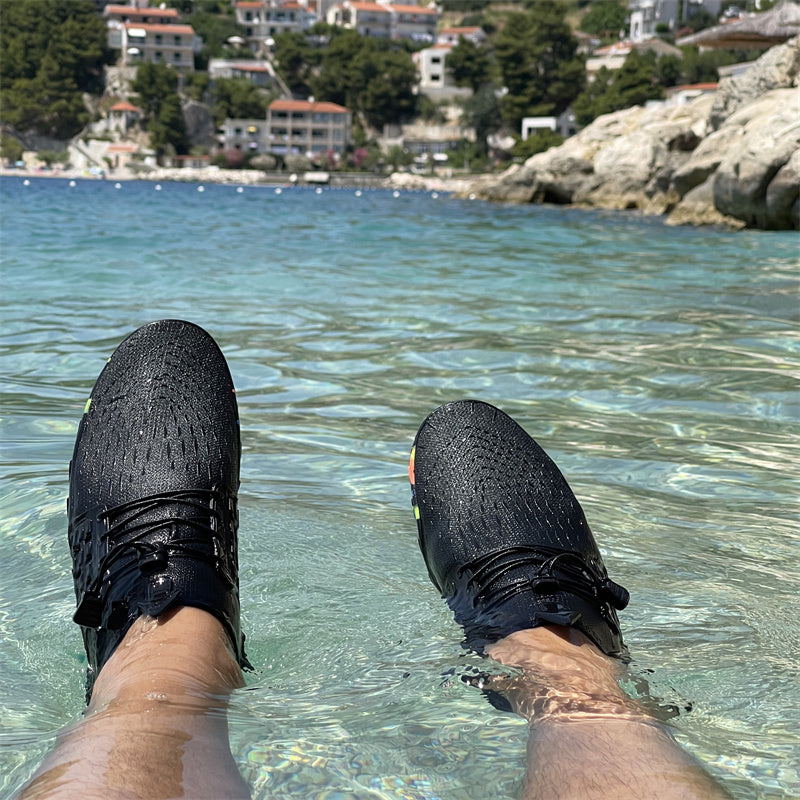 PROTECTING FEET FROM SUNBURNS
The skin on top of our feet is thin, and therefore easy to damage. For a proper protection we need to rub them in with sunscreen multiple times per day. How many times do we see people enjoying the shade of an umbrella, not noticing that their feet are sticking out in the bright open sunshine.
WALKING ON HOT SURFACES
An important thing to be aware of, is that around 3 pm the sun can be high up in the sky, sending a great amount of heat. Not only sand, but stones and rocks can heat up quickly too. 3 pm is the time of the day when we want to have fun and explore. Especially kids.
Going from water to land, and then back into the water can be a hassle, especially if everything feels extremely hot. Water shoes are more than a luxury in these conditions.
MORE GRIP
Snorkeling is often combined with walking, either towards that perfect snorkel location or just a small hike through shallow watery areas. Please be aware that stones can be extremely slippery, especially if algae managed to grow on them. In order to avoid falling down or slipping away, water shoes provide more grip.
KEEPING FEET WARM
Now this is not necessarily an important thing if the water temperature is comfortable. However, it's important to enjoy snorkeling without that freezing sensation. Cold feet could result in a sensation of feeling cold in general, even though your body temperature is still stable.
If you're the kind of person who quits swimming or snorkeling because of a cold water temperature, having warm feet could be just what you need. Warm feet are a delight and will allow for a longer adventure. Sure, if you wear fins you'll be just fine, but not everybody wears them the entire time.
CONCLUSION:
You don't need water shoes for snorkeling, however, we'd strongly recommend to wear a pair.
Not only do you minimize the risk of injuries, but you also get to enjoy that sudden snorkel hike. Furthermore, warm feet could be a big advantage for some of us.