Travel with water shoes
Posted by Steven Han on
Will you soon spend your vacation with the family in a vacation home on the California coast? There you can enjoy the sun, sea and beach! When packing your vacation luggage, you can not miss the water shoes.
Water shoes are also probably called surf or swimming shoes. They are rubber or nylon shoes with a non-slip sole. The rubber has a water repellent effect, and the nylon is mainly water permeable. You can buy such a pair of water shoes for less than $50 On a beach vacation - especially with small children - they are ideal.
Water shoes protect the feet
When your children play on the beach or at the edge of the water, they naturally want to enjoy undisturbed. Water shoes protect their feet from sharp twigs, shells or stones. Even an encounter with a jellyfish on the beach will not be a problem with water shoes.
Water shoes also provide good protection on warm summer days. Have you ever tried to walk over the hot sand to the water? With water shoes this is no problem! In addition, the nylon of the surf shoes protects bare feet from UV radiation.
And if the North Sea water is (still) a bit cold to play in, the water shoes will help prevent children's feet from cooling down.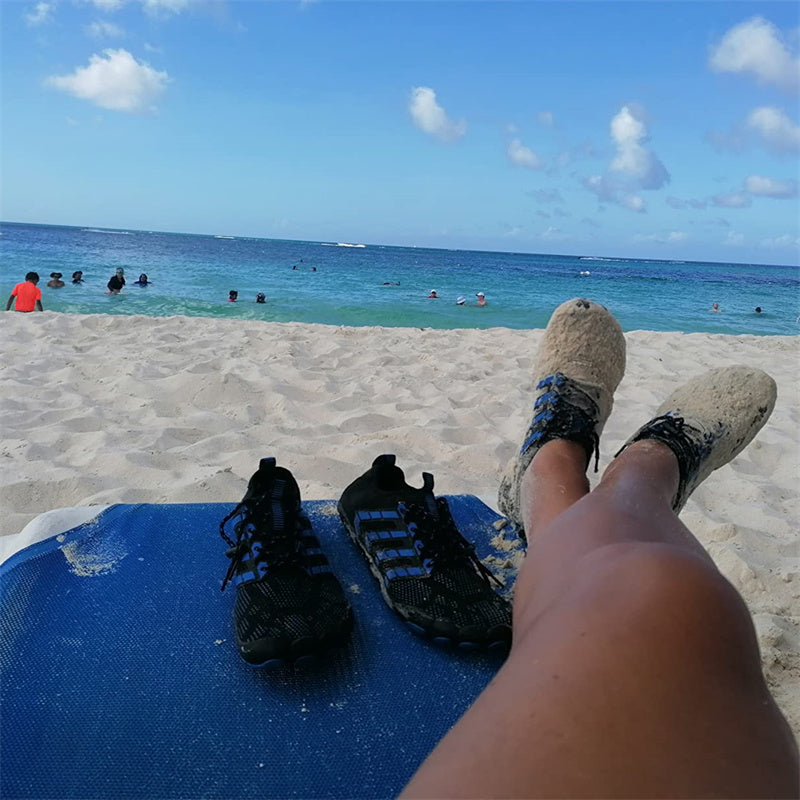 Walking along the beach
Adults also reap the benefits of water shoes during a day at the beach, as they are great for a long walk along the beach or through the surf. They are lightweight, have a good anti-slip sole and allow you to push off when walking through the soft sand.
So, which water shoes are best for adventure trips like canyoning?
Now let's move on to the excursions that take place both on land and in or on the water. These include rafting, climbing along the coast, and canyoneering. Here it depends on whether you do the sport very often and professionally or only occasionally, for example, on vacation on a voyage of discovery in nature. However, when buying swimming shoes in this area, the following criteria are important in any case:
excellent fit, the shoe should fit perfectly during the fitting, every little feeling of pressure can cause unpleasant pressure points when wet.
lightweight material, such as neoprene a solid, yet flexible sole, which protects the foot optimally, but does not let you lose the feeling for the ground even on uneven surfaces.
Slip resistance - the be-all and end-all when touring through wet, slippery crevices and passages where you walk over rocks through water.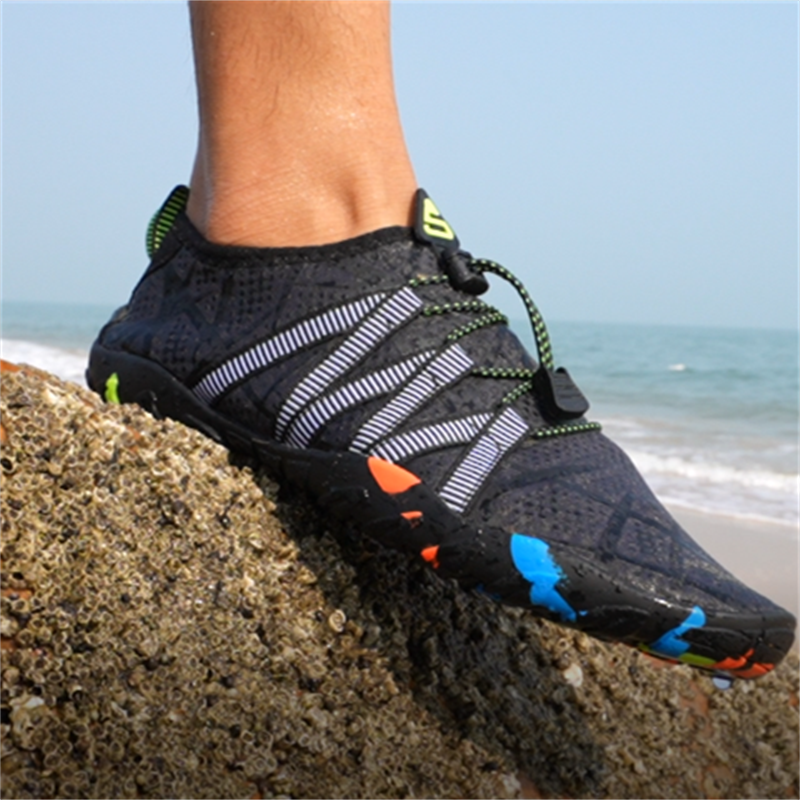 Conclusion - What should I look for when buying water shoes?
Find out what you want to use your water shoes for, this will save you time and money.
Be sure to make sure the shoes are comfortable and the fit is excellent.
Quick-drying, breathable materials like synthetics and mesh increase comfort.
Slip resistance: a good water shoe will give you a good grip even on wet, slippery surfaces.
Why not try a pair of Watevles water shoes, you will be surprised.